Homosassa Fishing Report March 14th 2017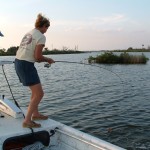 Homosassa fishing report for March 14th for the area waters goes like this. It has been really warm and the fish have been going crazy with the abundance of bait fish gathering in the shallows. The bite has been really good for redfish and trout the last few weeks. However this is probably going to change a bit.
Now we have a very strong cold front getting ready to hit the area for the next few days. Temps are supposed to dip down in the upper 20's to the lower 30's for the next couple of days. The high temperatures are only supposed to be 50's and 60's. We will see how this strong cold front affects our fish's habits.